As anyone who has lived in London can tell you, there are few areas that have such a unique feel to them as Camden. It may be the bustling Camden Market with its vibrant stalls, the gracious canal views, the abundance of food and drink options or the great association of the area with London's evolving arts & culture scene. The Stay Club Camden is proud to be a part of this wonderful area, sitting right in the heart of it, opposite Camden Market's entrance.
1. Camden Market
One of London's most renowned open-air markets, this unrivalled destination brings together a wonderful combination of independent merchants and food stalls. It has rightly earned its place in the list of 7 Urban Wonders of the World and attracts millions of curious tourists on an annual basis. The lively and colourful market sits by the canal side, offering endless spots to enjoy a quick bite, plenty of stalls to grab anything from accessories to unique gifts and so many lovely places to relax in. The renowned destination sits just by Regent's Canal and is at the heart of London's arts and culture scene with its historic existence, counting over four decades. The kind of destination you will not be able to say no to at any given moment, especially during those sunny breaks between lectures and coursework!
2. Primrose Hill
Although it is considered a whole other area, this picturesque neighbourhood is a ten minutes' walk at most from The Stay Club Camden. Roads filled with colourful houses (bearing much resemblance to Notting Hill) and old school cars are common finds in an area that is unique to say the least. The calm vibe of it and the cosy cafés bring out a warm and welcoming feeling, but we have yet to mention the absolute highlight! The area flaunts a wonderful green space, which is ideal for any day with clear skies and which treats guests to phenomenal views of London's skyline. Primrose Hill and its stunning streets make a lovely contrast to Camden's vividness, so it's safe to say it's the best of both worlds!
3. Music Venues
When we say that Camden has a rich arts & culture scene, we do genuinely mean rich. The Roundhouse, a performing arts and concert venue on Chalk Farm Road has hosted renowned musicians from The Rolling Stones to Led Zeppelin over the years, including events such as those that are a part of the iTunes Festivals. Dingwall's, the canal-side destination (& our awesome partners) have hosted Stereophonics, Ellie Goulding, Foo Fighters, Red Hot Chili Peppers and so many more, while it hosts regular live music and comedy events to spruce up our weekends. Blues, rock & roll and soul artsy vibes are strong in yet another beautiful Camden hang out, Blues Kitchen. Other than mouth-watering burgers, this Camden classic treats guests to regular live music sessions in a relaxing atmosphere.
4. Food Aplenty
We have already determined that Camden Market's food stalls are as much of a reason to visit Camden as any, yet the indulgent food options don't stop there. Burger lovers will rejoice with Band of Burgers, Haché and Honest Burgers all dotting Camden's main streets and markets, offering a diverse range of bun, meat and vegan options. Those that have a keenness for pizza will also be able to enjoy Purezza Camden, a highly rated dinning option and UK's first vegan pizzeria! Vegans are spoiled for choice, as Rudy's Dirty Vegan Diner and Young Vegans Pie Shop are close by at Camden Market's North and West Yards! All in all, it's highly unlikely any food lover will not be able to eat their hearts out whenever in and around this splendid area of London.
5. Cosy Corners
When picking out your neighbourhood, cosy corners are a must, aren't they? From choosing an alternative study space, to a corner where you can enjoy a good book coupled with an excellent cup of coffee, they offer a breather that is much appreciated. We have to admit, Camden has tons of those! Just opposite the hustle and bustle of Camden Market, visitors can find Hygge Pygge's awesome café with its delicious avo toast and great coffee (which you can also get a discount on, with your studio's key card!). What makes this spot so unique, is its dedication to high quality service and dishes… But don't take it from us! Read the interview with the café's awesome owner, Valentina, featured in a past edition of The Stay Club Newspaper!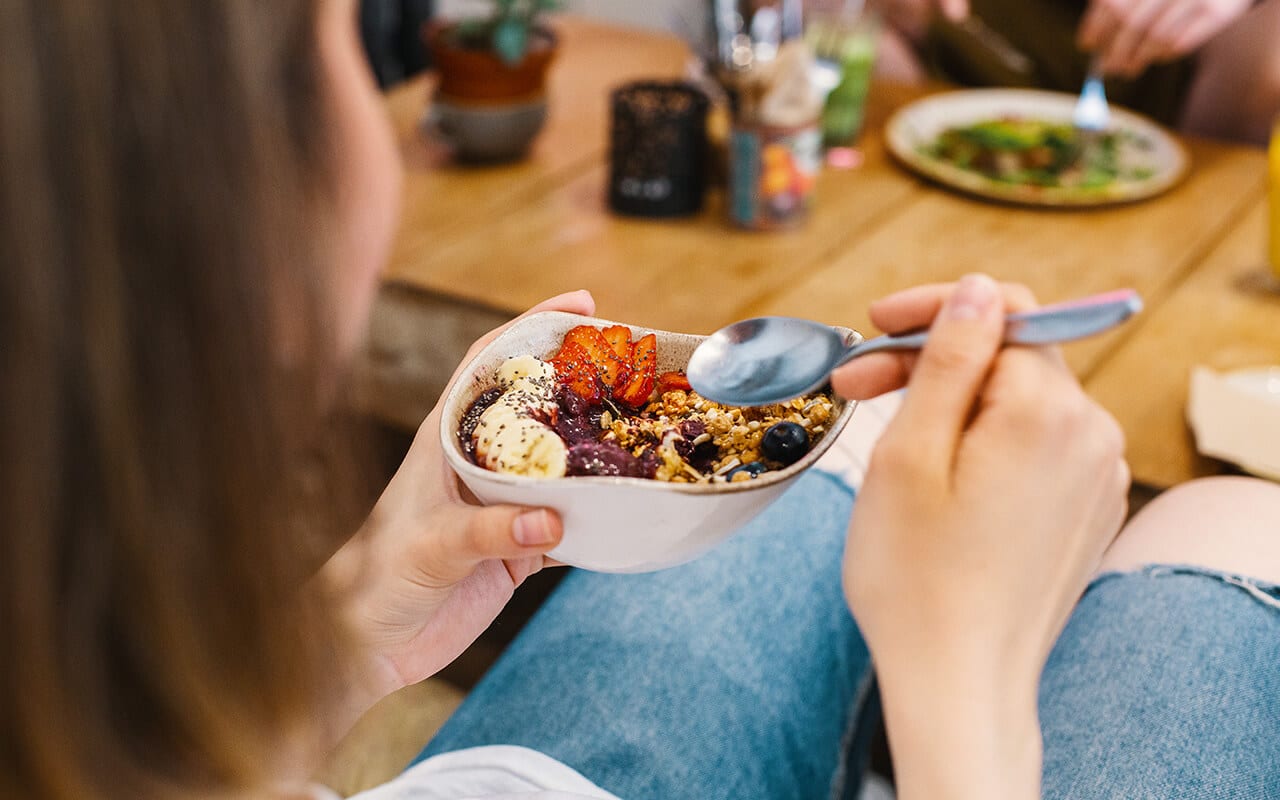 Hygge Pygge's Acai Bowl is unbeatable!
This area guide serves as an introduction to what the area has to offer for students living in the heart of the awesome London neighbourhood.
We have rounded up some of the best bars and pubs in Camden for your enjoyment, regardless if you are a tourist or a local resident!
The moment anyone exits Camden Town tube station, and the cataclysmic scents of the food traders hit you, it means you've arrived to the right place.