The bustling and vibrant Camden area has a great reputation thanks to its rich artistic and cultural history, as well as its longstanding musical tradition. This area guide serves as an introduction to what the area has to offer for students living in the heart of the awesome London neighbourhood, at The Stay Club Camden! Life as a student requires a nice mix of lifestyle options alongside local amenities, and Camden has a lot to offer on both fronts. So, keep scrolling to learn cool things to do in Camden Town, what the Camden shopping scene looks like and more!
Where is Camden?
Camden Town is an area of North West London, with lovely Primrose Hill, delightful Kentish Town and bustling Somers Town as its neighbours. The area is a popular destination among Londoners and tourists alike, as it is conveniently located close to the city's centre, while it features a number of attractions. Camden Town is considered a part of the London Borough of Camden and has been historically associated with the evolution of the city's music scene.
Camden Market, which is now one of the 7 Urban Wonders of the World started in 1974 with few traders and has evolved since then to be a popular destination for tourists and Londoners alike. Many well-known artists have made it their home or a regular hangout throughout the past decades, with Amy Winehouse being one of the most well-known. Hence why a life-size statue of the singer has been placed in the centre of the market's North Yard!
Camden Transport Links
Camden's convenient location makes living in the area all the more enjoyable. Commuting to the city's centre and various other East London areas is made easier with tube stops on the Northern line and a galore of buses passing through Camden High Street. Aside from the busy Camden Town, there is also Chalk Farm tube stop, both located on the Northern Line. Although Camden Town leads to the heart of the area, the Chalk Farm tube stop is the quieter alternative which is closer to Camden Market.
The Northern Line leads to two branches, with both offering a great selection of destinations around London. On the Charing Cross branch, you can reach Tottenham Court Road and do a bit of shopping. There is also Leicester Square if you are looking to catch a show or walk around Covent Garden. Charing Cross is also close by Trafalgar Square, Covent Garden as well as some of LSE's and King's College London campuses. Waterloo is on the Charing Cross branch too, and convenient if you were looking to book trains to various parts outside of London.
If you hop on the Angel branch, you will find yourself passing through King's Cross, one of the busiest stations with the Piccadilly, Northern, Metropolitan, Circle, Hammersmith & City Lines traversing through it. It's also adjacent to St. Pancras International, where you will find national and international lines, including Eurostar! A little further down the Northern Line, you can come across Angel, one of London's prettiest neighbourhoods to enjoy a cup of coffee or a quick pint. Old Street is also on the branch, leading you to the heart of East London's Shoreditch. After passing through Moorgate and Bank stations, you are heading to the other side of the Thames at the wonderful London Bridge with its abundance of markets and eating destinations.
All in all, the Northern Line is a great option for student living as it encompasses links to a number of universities and bustling lifestyle destinations. Coupled with multiple bus routes connecting you to a variety of North and North West areas of the city, as well as Kentish Town West on the overground, it's easy to see how life in Camden encourages you to explore London.
Camden Health Care
There are many things to take into account when considering which area to live in, and healthcare is one of the priorities.
Shopping in Camden
There is no shortage of shopping options in Camden, an area filled to the rim with markets! From Camden shops to markets and places where you can grab your week's groceries, below you will find some of the area's most interesting spots.
Local Markets
When exiting the Camden Town tube station, you will come across the Inverness Street Market, with multiple street food stalls and other traders selling a variety of clothing, memorabilia and more. Opposite this market is Buck Street Market, a recently redeveloped destination consisting of pastel-coloured containers with multiple eating, drinking and shopping options to enjoy!
A few minutes upwards, and after passing the bridge at Regent's Canal, you will find Camden Lock Market to your left and Stables Market a little further up the road (just opposite The Stay Club Camden!). Camden Lock Market and Stables Market combined are considered the famous Camden Market, a renowned destination for all visitors. While it's popular on weekends, students can enjoy it over the week as well, for a quieter and more thorough experience.
Across the local markets, there is an abundance of treasures to be found! From unique London memorabilia, like those offered at To Home from London, which you can treat your family and friends to, all the way to quirky Camden vintage shops, you're spoilt for choice as far as Camden Market shops are concerned! What's more, Camden High Street is also dotted with tourist stores sitting comfortably next to high street brands.
Supermarkets
The local Sainsbury's that you will find just opposite the Roundhouse is a convenient option when you are looking for a quick lunch supply. The area also hosts two wonderfully large supermarkets, both under 10 minutes from The Stay Club Camden. Morrison's' and Sainsbury's both have large stores in the area where you are sure to find a variety of products!
Things to Do in Camden
No matter what you are looking for, chances are you will find it in Camden. The area is filled with fun and exciting things to do! Although we have already covered that Camden Market is one of Camden's greatest activities, there are many more notable mentions to be listed.
Outdoors Spaces
Regent's Canal, which passes from Camden, Angel and through East London, is a great stroll to enjoy by walking along the towpath, or jumping on the London Waterbus Co.'s cool red waterbuses which will take you all the way to Little Venice, or drop you off mid-way at ZSL London Zoo! The zoo is a phenomenal destination for a slow Sunday when you want to do something different outdoors, and it sits between Regent's Park and Primrose Hill, both lush green spaces. From the top of the latter, you can also bask in stunning views of London's skyline (and grab a photo or two along the way).
Museums
Beloved London museums, such as The British Museum or the Wellcome Collection, are a short commute from the area. Camden does, however, play host to numerous hidden gems and galleries that anyone interested in a city's artistic happenings would be keen to explore. The Jewish Museum is one of the most well-known, and you can find it on Albert Street. The Zabludowicz Collection is also a great destination to get acquainted with emerging artists, whilst contemporary art afficionados will enjoy the Camden Art Centre. The Camden Image Gallery curates a great programme of exhibitions to keep an eye out for as well, adding to the area's artistic and cultural tradition!
Event & Music Venues
If there is one thing that Camden is known for, is how it has influenced the UK's music scene over the years. Plenty of venues local to the area have been around for decades, meaning it has been considered a longstanding player in the music scene of the city. Award-winning Jaz Café, famed Electric Ballroom Camden, the Roundhouse and Dingwalls (the latter is also on our list of partners) are among the area's most active event venues. The area's pubs are also known to host live music events in support of up and coming artists and budding talent, so keep an eye out for those. Some examples include the Camden Assembly and The Lock Tavern.
The Roundhouse, a performing arts and concert venue on Chalk Farm Road has hosted renowned musicians from The Rolling Stones to Led Zeppelin over the years, including events such as those that are a part of the iTunes Festivals. Dingwall's, the canal-side destination (& our awesome partners) has hosted Stereophonics, Ellie Goulding, Foo Fighters, Red Hot Chili Peppers and so many more, while it hosts regular live music and comedy events to spruce up our weekends. Blues, rock & roll and soul artsy vibes are strong in yet another beautiful Camden hang-out, Blues Kitchen. Other than mouth-watering burgers, this Camden classic treats guests to regular live music sessions in a relaxing atmosphere.
View this post on Instagram
Primrose Hill
Although it is considered a whole other area, this picturesque neighbourhood is ten minutes walk at most from The Stay Club Camden. Roads filled with colourful houses (bearing much resemblance to Notting Hill) and old-school cars are common finds in an area that is unique, to say the least. The calm vibe of it and the cosy cafés bring out a warm and welcoming feeling, but we have yet to mention the absolute highlight! The area flaunts a wonderful green space, which is ideal for any day with clear skies and which treats guests to phenomenal views of London's skyline. Primrose Hill and its stunning streets make a lovely contrast to Camden's vividness, so it's safe to say it's the best of both worlds!
View this post on Instagram
Food & Drink in Camden
As with most lifestyle activities, food and drink options abound in the Camden area! Visitors will find a place to brunch, street food to grab on the go, tasty cocktails and pubs of all sorts. Let's walk through some of the most popular destinations:
Cafes
Looking for a space to touch down and grab a couple of emails, or somewhere to enjoy a cup of coffee with friends? Hygge Pygge Camden (yet another Stay Club partnership where you get a cool discount on your coffee) is one of the nicest places to do any of that! Located on Chalk Farm Road, it has a friendly team, great coffee and yummy avo on toast, all of which you can enjoy in a laid-back interior. Another lovely coffee corner with a great interior is Music & Beans, which also brings intimate live music events to life on a recurring basis (check their website for more details). If you are more of a tea lover though, we would definitely recommend Yumchaa, where you will find so many blends you will be tempted to take some home with you!
Street Food at Camden Market
Camden's street food is one of its highlights! Camden Market is one of the many food markets in London, and it surely boasts an incredible selection of street food traders. Spotlighting international cuisine, the market's food stalls have Argentinian, Asian, Greek and Italian delicacies among other international options that will make you drool! The lively and colourful market sits by the canal side, offering endless spots to enjoy a quick bite, plenty of stalls to grab anything from accessories to unique gifts and so many lovely places to relax in. Although Camden Market is not primarily a street food market, if you navigate towards the central part of the Stables Market, or head to West Yard just above Regent's Canal, you are bound to find an oasis of food offerings! The selection also includes many of the city's most coveted vegan eateries, such as Rudy's Dirty Vegan Diner, Young Vegans and more. You can find more Vegan places in our Top 5 Vegan spots in Camden article.
View this post on Instagram
Pubs
The pub scene in Camden Town is as rich as any! We have rounded up some of Camden's most interesting pubs and bars, but there are some places we would be happy to talk about time and time again! For example, did you know Camden has its very own brewery? Camden Town Brewery is home to the Hells Lager, and you are bound to find them in most pubs around the city! Their brewery also has a bar in the cobblestone alley next to Kentish Town West overground station, which is a cool fact to know. Even cooler is the fact that you can book your own brewery tour on their website. The Lock Tavern also deserves the spotlight, not only because it's our neighbour and one of our partnerships, but also because they have a cool beer garden that is heated to enjoy over the winter, and the same applies to their roof terrace.
Must-try Burger, Pizza, and Pie Shops
Burger lovers will rejoice with Band of Burgers, Haché and Honest Burgers all dotting Camden's main streets and markets, offering a diverse range of bun, meat and vegan options. Those that have a keenness for pizza will also be able to enjoy Purezza Camden, a highly-rated dining option and UK's first vegan pizzeria! Vegans are spoiled for choice, as Rudy's Dirty Vegan Diner and Young Vegans Pie Shop are close by at Camden Market's North and West Yards! All in all, it's highly unlikely any food lover will not be able to eat their hearts out whenever in and around this splendid area of London.
View this post on Instagram
Cosy Corners
When picking out your neighbourhood, cosy corners are a must, aren't they? From choosing an alternative study space to a corner where you can enjoy a good book coupled with an excellent cup of coffee, they offer a breather that is much appreciated. We have to admit, Camden has tons of those! Just opposite the hustle and bustle of Camden Market, visitors can find Hygge Pygge's awesome café with its delicious avo toast and great coffee (which you can also get a discount on, with your studio's key card!). What makes this spot so unique, is its dedication to high-quality service and dishes… But don't take it from us! Read the interview with the café's awesome owner, Valentina, featured in a past edition of The Stay Club Newspaper!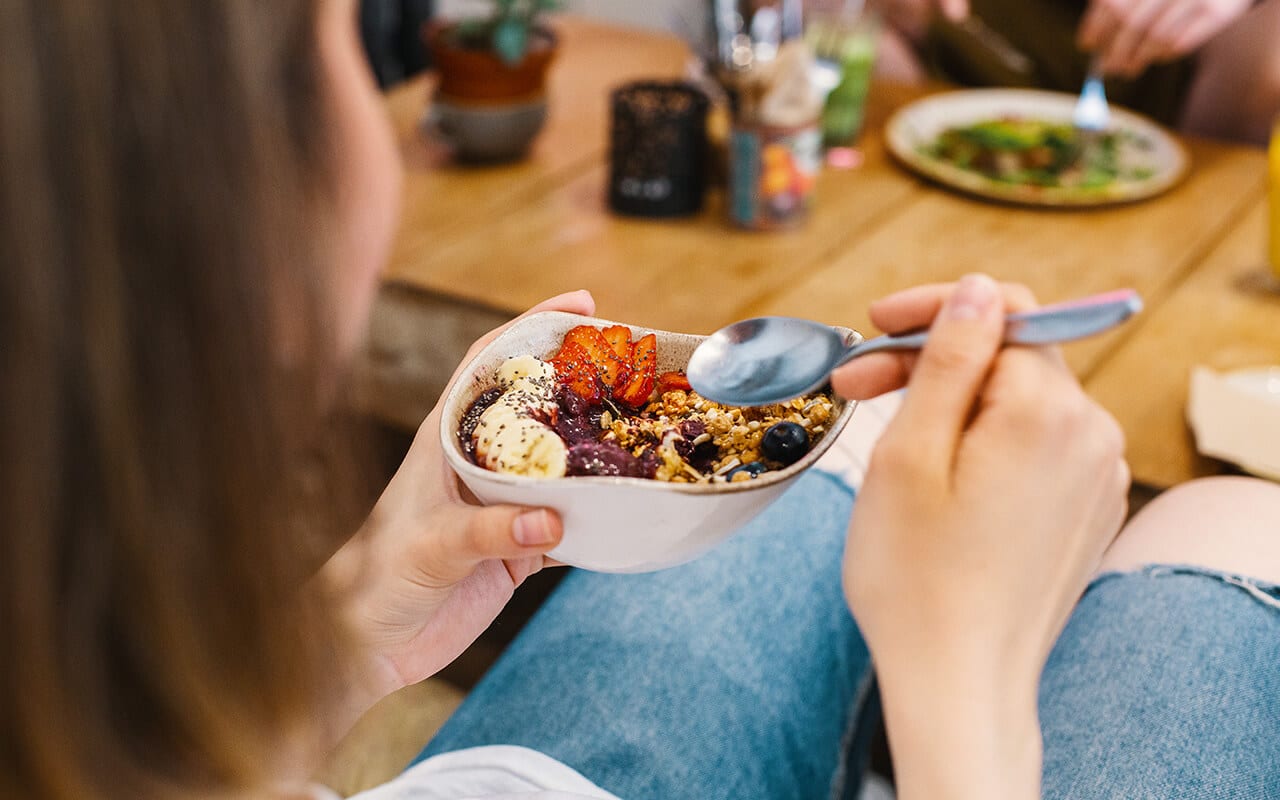 Hygge Pygge's Acai Bowl is unbeatable!
Understandably, Camden is considered a lively and unique area of London, located close to the city centre in Zone 2, but still with its individual character. Student living is never a dull affair in an area with so much to do nearby, whereas local amenities make day-to-day tasks all the more convenient. The area's great connectivity and abundance of eating and drinking destinations make it a wonderful option to spend your student years. Intrigued? Learn more by getting in touch with our team, or via our virtual tours gallery!