Renowned for its lively atmosphere, diverse culture & visual vibrancy, Camden is the place to be all year round. With lots on offer for residents & visitors, such as Camden's pubs, bars & restaurants we can't forget about their mouth-watering street food market. Arguably, one of the tastiest street food markets in London, Camden offers quality and a diverse range of dishes to the public that will leave you wanting more. With over 34 traders that are open seven days a week, we understand that there's only so much great food you can try with each visit. However, you're in luck because we are here to help! Dive in and discover the best Camden Town market food with The Stay Club!

1. The Mac Factory
Let's start with an oldie but a goodie! A staple in so many peoples' diets and the most popular comfort food known to man, mac & cheese is that dish. Usually, mac & cheese is made with the same old ingredients such as dried pasta, cheese & bam. However, The Mac Factory aims to add a gourmet twist, rejuvenating this popular fave & we are loving it! A popular flavour to try is their Truffled Shroom. It consists of a cheesy melting macaroni pot laced with indulgent truffles & topped with their famous signature parmesan & thyme crumble.
View this post on Instagram
Opening hours

Monday – Thursday
11am – 6pm
Friday – Sunday
11am – 7pm
2. OH MY DOG!
You may have tasted a range of hot dogs in your life, but you've never tasted anything like this at Oh My Dog! The American-themed street food staple takes hot dogs to a whole new level. Mighty in size, Oh My Dog aims to be innovative with its hot dog selections. With their extensive menu, they offer Chilli-SteakDog which consists of Original beef frankfurter, served in a hand-made demi-brioche bun and you can choose the topping of your desire. From bourbon chilli steak, melted cheddar, steamed onions, diced jalapeños, sour cream, and American Mustard, you'll be spoilt for choice. Sounds Ah-mazing! The prices of their hot dogs range from £7 to £8, so what are you waiting for?
View this post on Instagram
Opening hours

Monday – Thursday
11am – 6pm
Friday – Sunday
11am – 7pm
3. AREPAZO BROS
Add some culture to your palette as you visit Arepazo Bros. Serving the finest Latin cuisine, the Arepazo Bros specialise in Venezuelan wrap. The amazing thing about these wraps is that it's made from 100% corn flour bread, making it 100% gluten-free! Crispy on the outside, and soft and tender on the inside, these wraps can be filled with any meat of choice. Whether you fancy shredded chicken and beef or cheese, vegetables, and black beans. It's the most exotic & flavoursome sandwich you'd ever try, making this Camden Market food stall worth a visit! Priced between £6 to £7 this is a worthy try for anyone seeking quality flavours.
View this post on Instagram
Opening hours

Monday – Thursday
11am – 6pm
Friday – Sunday
11am – 7pm
4. BURGER & BEYOND
Not in the mood for Burger King but still want a mouth-watering burger? Why not make a stop at Burger & Beyond? This classic burger truck provides premium & world-class burgers that will leave you wanting more. Creating the perfect burger that draws on inspiration from curated burgers all over the world, Burger & Beyond creates quality beef burgers served with top-quality ingredients. Their menu ranges from their classic cheeseburger which consists of a 45-day aged beef patty, bun, double American cheese, pickled onion, and smokey mayo. Generous in size, and tender in texture, Burger & Beyond is the perfect stop to get your quick hunger fix. Enjoy!
View this post on Instagram
Opening hours

Monday – Friday
11am – 6pm
Saturday & Sunday
11am – 7pm
5. SWEET NOW
In need of a sugar rush, come get your fix at Sweet Now! The infamous hotspot for anyone who has a sweet tooth, Sweet Now offers waffles, crepes, sundaes, and many more deserts for you to choose from. Their mouth-watering desserts are made with the finest ingredients created by skilled staff. Desire to try these goodies for yourself? Find all the information you need below!
View this post on Instagram
Opening hours

Monday – Sunday
10am – 8pm
6. STAKEHAUS
Craving steak frites on the go? Stakehaus has got you covered! Cooked to perfection and customised to your taste, Stakehaus sources the best British sustainable beef and quality potatoes. When served, their steak is accompanied by either their rosemary french fries or courgette fries. Plus, you can add an egg to your steak if you want to add some protein to your diet. With a straightforward menu, you know exactly what you're getting. Grab a bargain and order STAKEhaus on Deliveroo and bag an additional 25% off! You're welcome!
View this post on Instagram
Opening hours

Monday – Thursday
11am – 6pm
Friday – Sunday
11am – 7pm
7. The Cheese Wheel
Imagine seeing fresh pasta being spun by a giant wheel. Well, that's exactly what you can do if you visit The Cheese Wheel. All you need to do is choose your desired sauce, from creamy tomato to white wine, and then watch as it is prepared. Savour your favourite classics such as pancetta and pesto toppings on long pieces of Tagliatelle. The ultimate comfort food.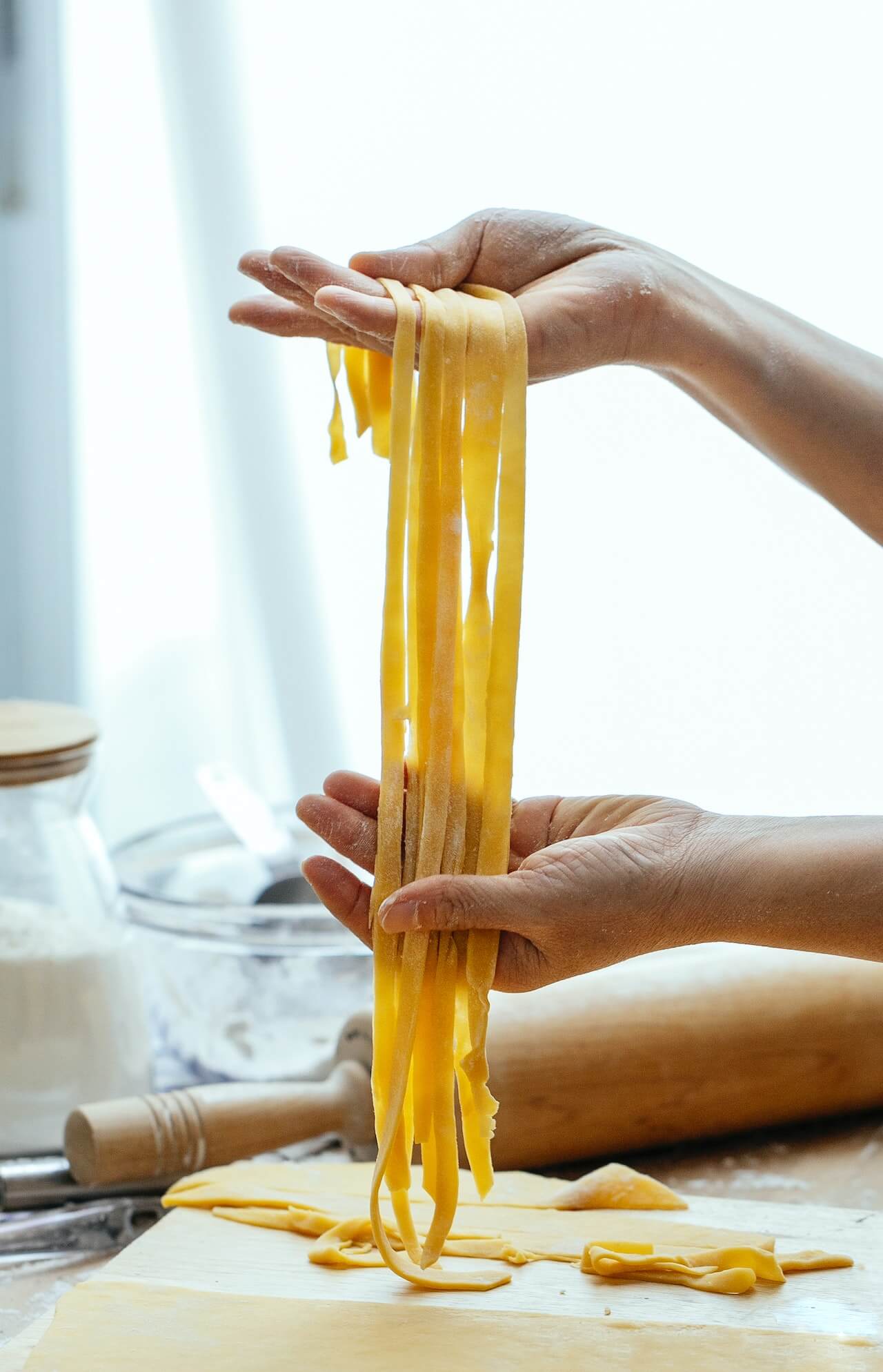 Opening hours

Monday – Friday
11pm – 5pm
Saturday – Sunday
11am – 6pm
8. Chin Chin Labs
For creative desserts drizzled in sauce, treat yourself to an ice cream at Chin Chin Labs. Whether you want to go for a classic like Burnt Butter Caramel or bite into a Brownie Cookie Sandwich, there's an option for whatever you fancy. Chin Chin Labs also offers delicious vegan options! Or why not sip a warming mug of the Signature Chin chin Hot Chocolate with torched gooey marshmallow fluff?
View this post on Instagram
9. Yorkshire Burrito
Fancy tucking into a roast dinner with a twist?  At Yorkshire Burrito you can enjoy a classic roast dinner, all rolled into a burrito. Tuck into tender meats, fluffy roast potatoes and veg, all wrapped in a large Yorkshire pudding. Take your pick between slow-cooked beef, roast chicken or cauliflower in a cheese sauce. Finally, have your burrito drizzled in a meaty gravy and enjoy! This Camden Market food stall is a must-visit on a wintery day exploring London.
Website:

Opening hours

Monday – Thursday
11am – 6pm
Friday – Sunday
11am – 7pm
10. Oli Baba's
If you love cheese, you won't want to miss Oli Baba's halloumi fries. The chips are fried to perfection, both crispy and soft. You can enjoy your halloumi fried, coated in sauce, pomegranates and a side of salad. After a six-month trip to the Middle East, Oli Baba discovered the delights of their meat-free Levantine cuisine. Sample freshly handmade bread such as authentic fattoush and pita. Plus, here you can try the spice green salsa, Schug, ideal for adding a kick to your meal.
View this post on Instagram
Website:

Opening hours

Monday – Thursday
11am – 6pm
Friday – Sunday
11am – 7pm
11. Meat Point
Savour the taste of Argentina with this smokey steak bar. The steak is cooked for 12 hours and therefore packed with flavour. For a healthier option, you can enjoy this tender meat with a salad or as a sandwich. Meat Point offers a selection of tantalising sauces to go with your main too. And why not get smoked paprika chips to go on the side?
View this post on Instagram
Website:

Opening hours

Monday – Sunday
11am – 6pm
There you have it! Here are some of our top market food stalls in Camden Market that you must try. A 3-minute walk from Camden Town station, it's a convenient commute away from all the tasty cuisine that Camden has to offer. Interested in exploring other areas around Camden? Find all the information about Camden in our Camden Area Guide!