London is known for being one of the leading fashion capitals in the world. It's no surprise that the city offers incredible thrift & vintage stores for all fashionable bargain hunters out there! Second-hand fashion is a popular form of retail shopping, from car boot sales, swap shops, you name it! London has it all. With so many unique gems sought to be found and worn, let's take a dive into the best thrift shops in London.
Rokit, Camden
Dedicated to all the retro enthusiasts, Rokit is the place to find quality gems that you'll surely wear the heck out of! One of the best thrift shops in Camden, Rokit was founded in 1986 and has recycled over a million tonnes of discarded clothing and accessories to eco-friendly & stylish Londoners, providing these items a lovely home in their wardrobes. With its first branch set up in Camden, it specialised in thrifting vintage denim, and with huge demand, it expanded its offering and grew its loyal customer base. Their offering ranges from vintage military gear to eclectic designer pieces. Interested in discovering Rokit for yourself? Take a trip to Camden and enjoy the vibrant surroundings, mouthwatering street market foods, and try on some great clothes at Rokit!
Opening hours

Monday: 11am–7pm
Tuesday: 11am–7pm
Wednesday: 11am–7pm
Thursday: 11am–7pm
Friday: 11am–7pm
Saturday: 10am–7pm
Sunday: 10am–7pm
A Dandy In Aspic, Camden
Just a 6 minutes' walk from Rokit, located in Camden's Stable Market, you'll find one of the most unique shops in London, A Dandy In Aspic (ADA)! It's an authentic vintage store dedicated to offering classic fashionable items dating back from 1900 to 1979. By their nature, vintage items are usually second-hand. However, most of ADA's stock is in new & unused condition, catering to an audience who love things brand new! Popular items sold are classic double-breasted dandy coats, 1960's leather brogue shoes & women's vintage double-breasted coats. Classic & smart attire is very up this brands aesthetic!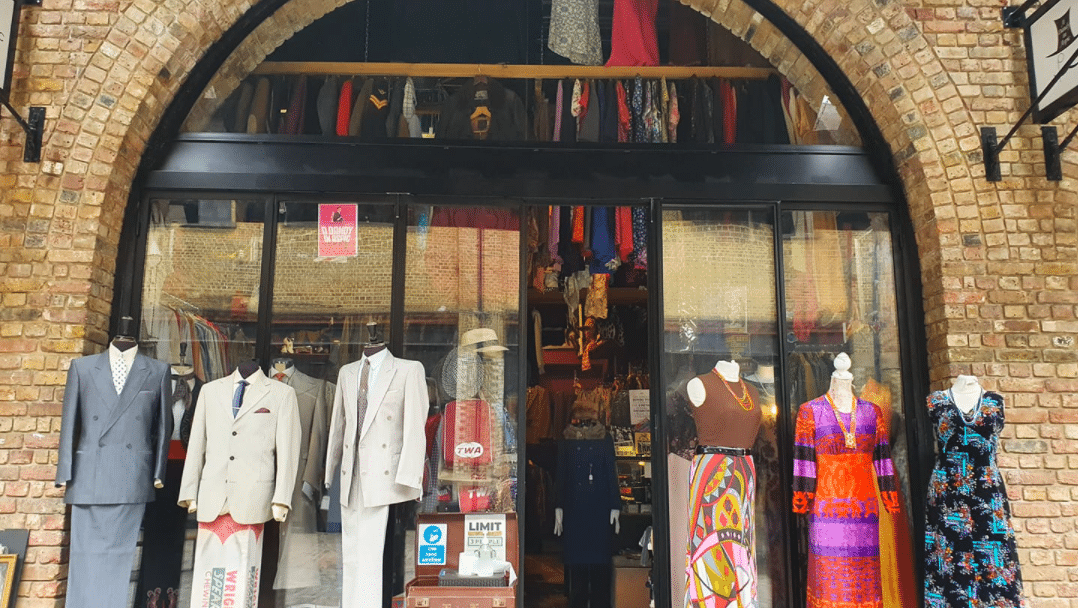 Opening hours

Thursday: 11am–6:30pm
Friday: 11am–6:30pm
Saturday: 10am–6:30pm
Sunday: 10am–6:30pm
Monday: 11am–6:30pm
Tuesday: 11am–6:30pm
Wednesday: 11am–6:30pm
Beyond Retro, Soho
Immerse yourself at the heart of central London and make a stop by Beyond Retro! Located in one of London's trendiest hotspots, Soho, Beyond Retro is one of the leading vintage retailers offering unique & sustainable fashion to the public. With 4 stores dotted throughout London enjoy rifling through a variety of amazing clothes & accessories and create a series of outfits that leave you with a ton of compliments. Expect to see a variety of Hawaiian shirts, cocktail dresses, band t-shirts, and tons of classic vintage denim. Beyond Retro offers student discount of 15% off when you shop on their website.
Opening hours

Monday: 11am–7pm
Tuesday: 11am–7pm
Wednesday: 11am–7pm
Thursday: 11am–7pm
Friday: 11am–7pm
Saturday: 11am–7pm
Sunday: 11:30am–6pm
Oxfam, Kentish Town
Explore one of the biggest & best charity shops in London, Oxfam! Founded in 1942, Oxfam has dedicated over 75 years to tackle worldwide poverty. It has gained 23,000 committed volunteers that run 650 shops nationwide. Oxfam offers quality second-hand clothes, accessories, and even furniture to the public. With one of its branches located in Kentish Town, the area offers a great shopping experience for students, as there are tons of restaurants, pubs & bars.
Opening hours

Monday: 11am–4pm
Tuesday: 11am–4pm
Wednesday: 11am–4pm
Thursday: 11am–4pm
Friday: 11am–4pm
Saturday: 11am–4pm
Sunday: Closed
The Brick Lane Vintage Market
Take a trip to one of London's famous areas, Brick Lane! Known for its street art, bars, restaurants, and quirky galleries, it's also known for all things vintage! The Brick Lane Vintage Market has stocks of clothes dating back to the 1920's all the way through to the 90's – A vintage lover's dream. It offers style enthusiasts a plethora of options, from glamorous fur coats to vintage bridal wear. The Brick Lane Vintage Market is a go-to for all men & women!
Opening hours

Thursday: 11am–6pm
Friday: 11am–6pm
Saturday: 11am–6pm
Sunday: 10am–6pm
Monday: 11am–6pm
Tuesday: 11am–6pm
Wednesday: 11am–6pm
Atika, Shoreditch
Just a 3-minute walk away from The Brick Lane Vintage Market, you'll find yourself in Atika, Shoreditch. Opened in 2011, the vintage department store is made up of 2 floors & 5 different rooms, which offers the public up to 20, 000 vintage items from fashion, lifestyle, homeware, art, books & magazines. What more could you ask for! The brand also works alongside independent artists and designers stocking items that increase their reach to the public. Whenever you're in Shoreditch, make a stop at Atika, you'll surely be shopping the whole day!
Opening hours

Thursday: 11am–7pm
Friday: 11am–7pm
Saturday: 11am–7pm
Sunday: 12–6pm
Monday: 11am–7pm
Tuesday: 11am–7pm
Wednesday: 11am–7pm
Transport Around London
There you have it! Our top best vintage shops in London for all the shopaholics & vintage style enthusiasts out there! The most fantastic thing about these brands is that they are in London's trendiest areas. There's inspiration everywhere! From the stylish locals to the diverse cuisine consequently leaving your senses desiring more. The Stay Club Kentish Town, The Stay Club Camden & The Stay Club Colindale are interconnected hotspots, meaning you can access various central areas of London easily by using the northern line. Planning to move to London? Here are 10 apps you need to have to make the smooth transition!